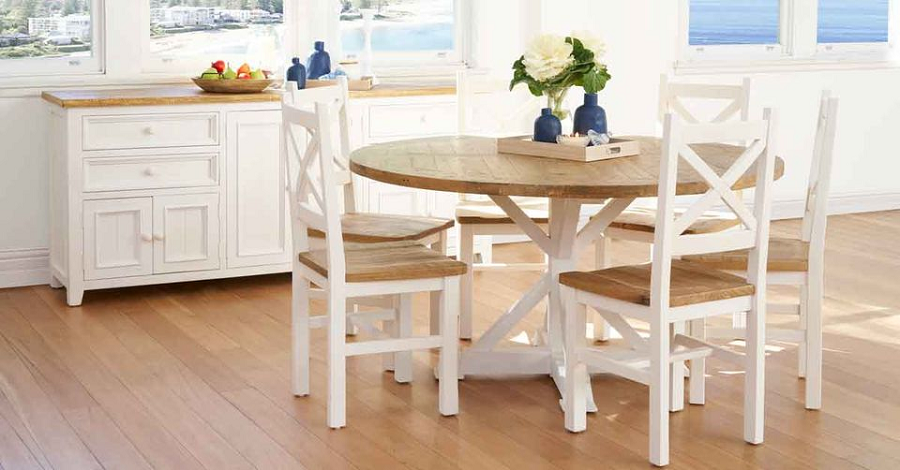 Small Dining Room Ideas that Save Space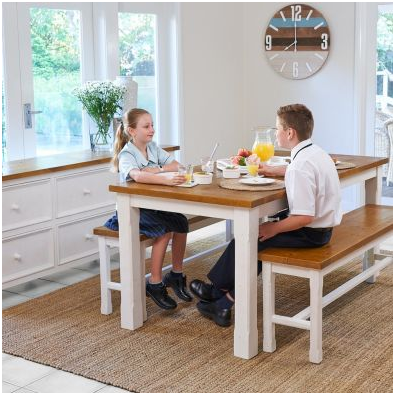 Photo: 1825 Interiors
Small dining rooms can still pack a powerful punch in the decor department! A smaller space absolutely requires more thought and sleight of hand when you're doing your shopping and styling, but with the right choices, you'll find that even the tiniest of dining rooms can look stunningly put together and feel roomy, too. All you need is a few nifty tips, tricks, and ideas on your side! Read on for professional pointers and clever ideas that'll have your small space feeling like fine dining in no time…
Fold Out Tables
This is a great option if you're hauled up in an apartment or you're furnishing a small and shared dining space. Installing a subtle fold-out surface that can appear during mealtimes or work hours and quietly disappear before your eyes is perfect for really compact homes. You can dress your fold-out table up with a beautiful tablecloth, dining chairs, and a candle or two so you don't feel as though you're missing out on the full sit down and dining experience.
You can consult with interior designers or you can take help from LC Designer, they are perfect in designing innovative stuff.
Multi-Purpose Benches
A bench is a great substitute for a set of dining chairs as it takes up significantly less space and can be easily multi-purposed for all kinds of other uses. Place against the wall, add a smattering of cushions or layered soft textiles, and contrast the sharp shape with a round dining table or smaller side table. This can be styled into a chic little corner to make a feature out of an area that might go amiss in large homes! Celebrating the charming benefits of small spaces is the key to creating a comfortable home that you love to spend time in.
Style Against the Wall
Placing furniture against a wall is usually a big small space no-no but moving your dining table against the wall is great for opening up more room in your dining space. You can place three chairs around your table and style an eye-catching gallery wall to admire whilst you're tucking into your food.
Add Shelving
Shelving is amazing for adding more storage and freeing up space in a compact room. You can use this to store all of your crockery, artwork, greenery, and any other decorative pieces like sculptures or vases. Shelving placed around your dining corner will create a homely and personal atmosphere that you will really enjoy relaxing and eating in. Highlighting comfortable areas of your home with decorative accents only makes your household more styling and more reflective of the inhabitants!
Get Reflective
Mirrors are fantastic for creating the illusion of more space in any sized room. This is a classic small-sized trick, but it's a go-to for a reason! Send light around the room and create the effect of more floor space with a grand mirror that fits in with your decor style perfectly. You can go for a super orange frame, metallic accents, clean and simple or classically intricate – whatever suits your home and your tastes best!
Add Smart Patterns
Any vertical line that you can incorporate into your small dining space styling is going to do your home a world of good. Whether they're horizontal or vertical, patterns that incorporate lines encourage the eye to move with their direction, tricking the eye into thinking that there's more open space!
Have Fun!
Remember that you should love the space that you've created for yourself, no matter what size it might be. Allow yourself to be creative whilst following the small space decor rules and you'll find yourself with a perfect dining room that you love to spend time in!