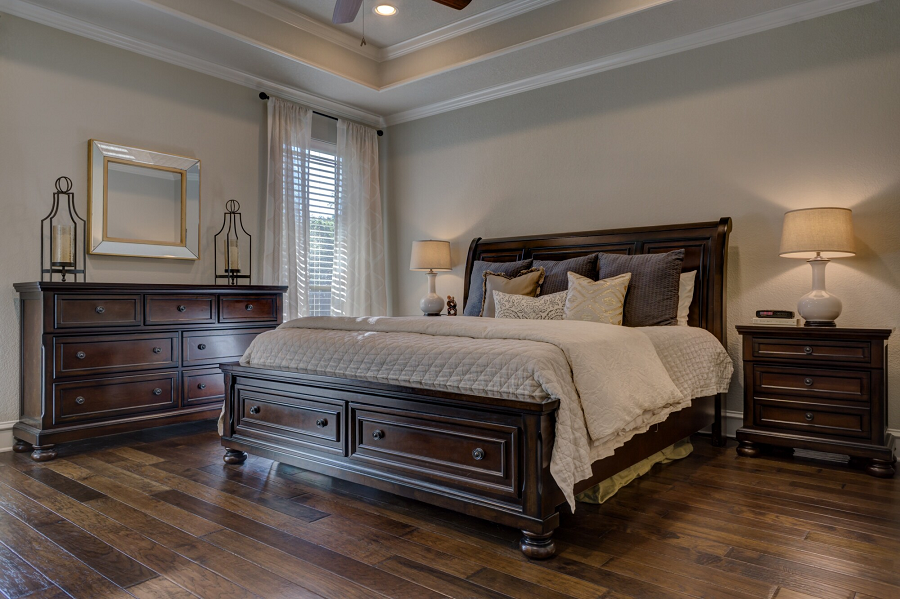 Relax: 7 Great Bedroom Flooring Ideas
The right bedroom flooring can affect the way you begin each day. Choosing it is intimate, but also based on aesthetic preferences, environmental concerns, required maintenance, and budget.
Flooring is a huge investment and it isn't easily replaced, so deciding on your bedroom flooring can be a daunting task. To see some bedroom flooring ideas, check out the list below.
1. Types of Hardwood
Hardwood is a popular choice for bedroom flooring. It is a natural material — looking at it can even boost mental wellbeing and reduce stress.
When deciding on hardwood, it is more affordable to choose locally sourced woods. However, if you have the budget, exotic wood can add an exquisite touch.
Finally, you will need to choose between a standard plank width or a wide plank. You also need to choose to have it pre-finished or unfinished.
2. Engineered Hardwood
Engineered hardwood is a step below genuine hardwood in cost. It also has the added benefit of being more resistant to moisture. The top layer of an engineered wood plank contains genuine hardwood, while the layers beneath contain ply plank.
3. Sustainable Flooring
For the environmentally-conscious homeowner, cork bedroom flooring or bamboo bedroom flooring are particularly sustainable.
Bamboo is a type of hardwood, but it grows much faster than most hardwoods. Cork, on the other hand, is sourced from trees without killing them. Bamboo is the more expensive option here.
4. Tile and Stone
Tile and stone options aren't easy on the feet, but some homeowners still prefer the extravagant aesthetic they provide. This option is among the most expensive on this list.
Some common types of stone include:
– Slate
– Marble
– Granite
– Stone tile
– Limestone
– Sandstone
– Travertine
If the stone is out of your budget, you can choose between quarry tile, porcelain tile, glazed ceramic tile, or terracotta tile.
5. Artificial Flooring Options
Artificial flooring is a cheap bedroom flooring option. Despite the low cost, it can still look sophisticated. These options include vinyl, laminate, and linoleum.
Laminate is another step below engineered hardwood, using an image of hardwood in the top layer instead of genuine hardwood. Linoleum is made from renewable, biodegradable materials, making it a more environmentally friendly option. Vinyl is the cheapest on this list, but it is the most durable flooring for bedrooms.
6. Carpeting Choices
Carpeting can be one of the more affordable options on this list. It also has the added benefit of comfort and support for your feet. Common materials for carpeting include:
– Wool
– Nylon
– Acrylic
– Polyester
– Polypropylene
Within this list, wool is the only natural carpet material, while the others are synthetic. Wool can get pricey, but there are also affordable options. You can click here to get a sense of the cost.
7. Polished Concrete
Like stone or tile, polished concrete can be hard on the feet. Still, you can't get more modern than a concrete floor. It is also particularly resilient to foot traffic.
Making Bedroom Flooring Ideas a Reality
Choosing between these bedroom flooring ideas requires careful consideration of your personal taste, budget, and functional needs. Once you decide on the type of flooring, you then need to narrow down your options to a specific material. Finally, decide how that material will be laid.
If you found this guide useful, take a moment to browse the other real estate and home articles on our page.