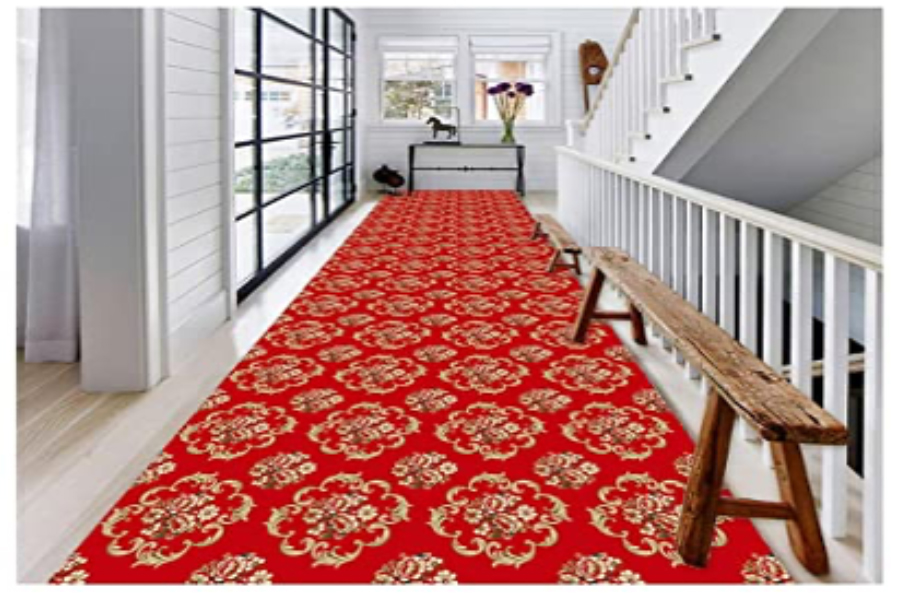 Where to place a Runner Rug for the best effect?
Runner rugs are carpets that are both long and narrow in length and width, as the name suggests. Most of these carpets are rectangular in shape, but you can also get them in a variety of other unique shapes if you look hard enough.
Whatever the shape, the length of a runner rug is almost always several times more than its width, regardless of the design. Rugs for staircases, tight corridors, bedrooms, the front door of the house, the kitchen, and the bathroom in front of the sink are all common places to find runner rugs in homes.
There are various unique advantages to having runner rugs installed in your home. Take a look at the three advantages of using runner rugs in your home to get started.
Not only do they look wonderful and contribute to the décor of your house, but they also provide an additional layer of protection, which is especially important if you have hardwood flooring or any other type of hard flooring that is more prone to being damaged, especially in heavy traffic areas of your home.

They also make hardwood floors more comfortable to walk on, as well as providing higher traction, which reduces the likelihood of anything slipping over the smooth hardwood floor surface when walking on them. An area rug, rather than a cold, hard, and potentially dangerous floor, gives something warm, pleasant, and safe under your feet to keep you safe.

Due to their compact width, these rugs are particularly well suited for usage in smaller spaces where a bigger rug may not be the most appropriate choice. Another important reason why these sorts of rugs are so popular with homes is that they are a simple method to turn a long, frigid corridor, a bedroom floor, or a bathroom from being cold and boring to being warm, bright, and vibrant.
Runner rugs instantly bring a room to life and offer character and comfort. Furthermore, it does not necessitate the time-consuming process of setting up anything. All you have to do is lay the rug on the floor and you're done.
1. Hallways and entryways can benefit from the use of long runner rugs
Hallways and entryways have a tendency to be fairly austere and dismal in appearance. The size of these rooms is often less than that of most other rooms, and if you add too many items to the space, it might easily appear congested.
Most homeowners choose to disregard these areas and simply leave them alone since they believe the available space is too limited to accommodate any significant activities. However, it is not necessary to go all in or nothing at all. Simply adding a brightly colored runner rug in the foyer can make a world of difference in the overall appearance of the space. It will assist all of your guests in making a grand entry and will provide them with a warm and friendly impression.
These areas may be decorated with either informal or more formal runner rugs, depending on the type of atmosphere that you want to create. Depending on the type of runner rug you use in your doorway, it may set the tone for the rest of your home's common rooms.
In the corridors of your house, a runner rug will naturally divide the private portions of your home, such as the bedrooms and living room, from the other communal spaces, such as the dining room and kitchen.
2. Using Runner Rugs in the Bedroom is a good idea
The ability to get out of bed and lay your feet on something soft and warm is a wonderful feeling. When you install a regular-sized rug, however, a significant amount of the rug would most likely end up covered under the bed.
The use of a runner rug in this situation is the best option. Runner rugs are particularly well-suited for usage in this space because of their thin, long design.
3. Runner Rugs in the Kitchen
A broad variety of sizes and shapes are available for runner rugs, so you can choose one to fit even the tiniest floor area in your kitchen, as well as even the most unusually shaped floor space in your kitchen.
A brightly coloured runner may serve to soften the rigid lines that are typically found in kitchens, while also adding colour and character to the space as a whole.
4. Runner Rugs in Small Spaces
Many tiny, narrow gaps exist between other pieces of furniture in most houses. This is especially true in dressing areas, walk-in closets, pantries, and even laundry rooms. In these settings, a runner rug may assist to create an attractive focal point while also drawing attention away from the fact that the room is not particularly spacious.
5. Runner Rugs in places where there is high traffic
Rugs provide a comfortable walking surface in high-traffic areas because they absorb the shock of walking on hard surfaces. In this region, it is recommended that you select a rug with deeper colours since a light-coloured rug will begin to seem dirty sooner than a darker coloured rug.
Another key consideration when selecting a rug for high traffic areas is the need for a rug that is sturdy and will be able to resist the amount of traffic that will be there. A hand-knotted rug will always outlast a machine-made rug in terms of strength and durability.
6. Runner Rugs in Staircases
When utilised on a stairway, runner rugs may provide a variety of aesthetics while also providing usefulness. When it comes to staircases, hardwood is typically used, and although this provides a wonderfully attractive and refined appearance, it can also be quite slippery and hazardous if you are going about in socks or even bare feet.
Stair runners may enhance the aesthetics of this space while also giving you with the added comfort and safety that you require on the stairs.
One of the most distinguishing characteristics of stair runners is that the length is several times more than the breadth of the runner itself. Remember that when you use stair runners, they must be securely attached to the surface of the floors so that the rug itself does not slip off the steps, creating a serious safety risk for those travelling up and down the stairwells.