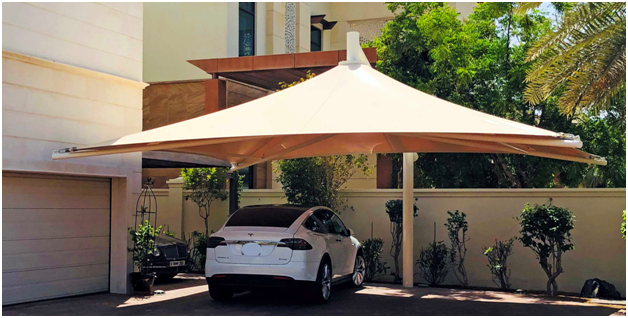 Ultimate Guide to Choose the Best Car parking Shade for Your Villa in UAE
One of the first things people tend to do while they need a car parking shade is to go down to the nearby store and choose the one that comes to their sight at first. However, we should consider a lot of things before landing into the decision of buying the car parking shades in UAE. It is necessary to make the right choice while picking the car cover as there is a chance for you to end up with the wrong one. This blog will give you the Ultimate Guide to Choose the Best Car parking Shade for Your Villa.
Budget
The first and foremost thing, of course, is the budget. If your car needs just protection from the elements, then consider buying the low budget HDPE shades. If you want to utilize the car parking area for generating electricity, then consider solar carport structures. The solar carport structures will provide shade to the car at the same time generates electricity from solar energy.
Size
You should decide the size of the car shed taking car size, the number of cars and the area into consideration. You can choose the right car shed according to the size and requirement.
Aesthetic Beauty
If you aim to bring aesthetic beauty to the property by providing shade to your car, then consider choosing the shade that enhances the overall appeal of the villa. The sail shades available in different colors and designs are guaranteed to bring beauty to the property.
Protection
Protecting your vehicle from the harmful UV rays and torrid climate is your purpose of getting a car parking shade? Then we recommend you to buy tensile, polycarbonate, and conical shed for your car. They are assured to withstand the bad weather and the torrid climate of the Middle East region.
In Short
When you consider purchasing a shade structures in UAE, just speculate the car's worth and the level of protection it deserves, the budget you're prepared to work within, and the location the vehicle will be stored in. This will help you derive the right choice for your vehicle. Before landing into the decision, you have to browse the market and compare the prices. We hope we have provided all the necessary guidelines to purchase the best car parking shades. Seek out professional help if you are still perplexed about the same.