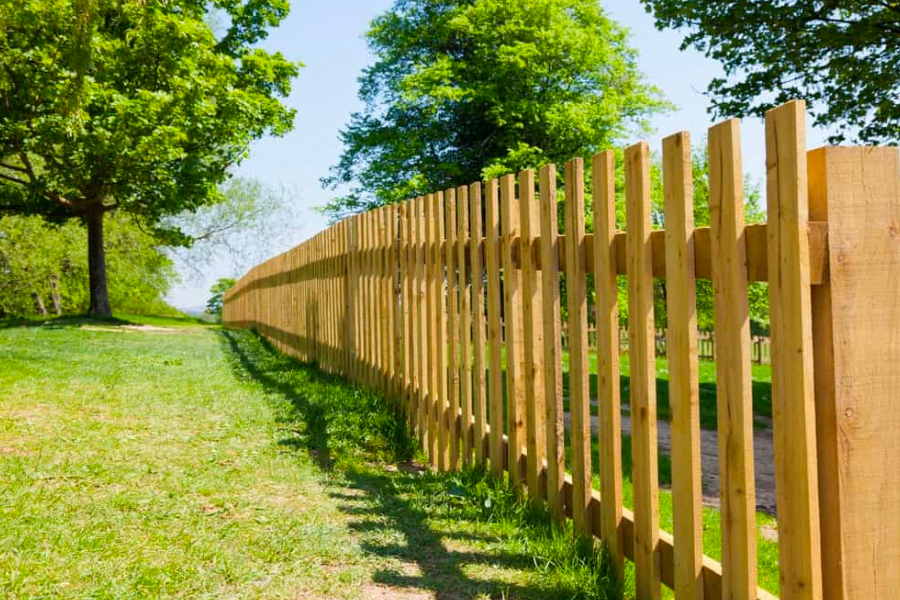 The Best Types of Fences for Your Home
Is your backyard your oasis? 
Whether you live in the city, the suburbs, or the country, you can enjoy a peaceful and private lawn space. The key is installing the right kind of fence! 
While there are many different materials available, not all of them are ideal for residential use. Today, we're breaking down a few of the most common types of fences and how to incorporate them seamlessly into your property. 
Wooden Fencing
Wooden fences are classic and traditional. Some of the most common types include:
Cedar

Pine

Fir

Redwood

Spruce
Of these, cedar and pine fences are the most common. If you want a rustic and primitive look, you can choose a lighter wood tone and leave it unpainted. Or, you can select a darker wood to make your home feel more modern. 
You can also paint your wooden fence, though you may need to touch it up every so often. Unlike other types of fence materials, wood tends to wear down easily over time. It's sensitive to the elements and changes in the weather, so keep your can of paint handy!
Vinyl Fencing
Love the look of an all-wood fence, but don't want to spend your summers painting posts? With a vinyl fence, you can enjoy all of the benefits of wood without any of the hassle or upkeep.
These fences come in a variety of different finishes and textures, but most are designed to mimic the look and feel of a real wooden fence.
People these days are using wire oriented and wireless fences at their home, you can also use wireless fencing at your home and office for your pets, you can get wireless fences from here- coloradopetfence.com, it is the best way to prevent your home from thieves as well.
The only difference? These won't rot when exposed to the elements. They're also resistant to chips, scratches, and dings and will look great forever. As long as you keep them clean with a routine spray-down, you should be good to go!
While vinyl home fencing might cost a little more upfront, you'll save money on maintenance in the long run. Choose a solid one if you want to make your yard feel private and more secure. Or, opt for a picket-style vinyl fence if you simply want to boost your curb appeal and mark property lines. 
When installing a vinyl fence, it helps to have an expert by your side. A professional fence installation company, like SK Exteriors, can get the job done right the first time. You can learn more about SK Exteriors online to get started!
Composite Fencing
Composite wood is made from a blend of wood and plastic polymers. It can be used for both fence installation and deck installation. This is another option that looks like wood but is much more rugged and durable.
One benefit of composite fencing is that it can be made from recycled materials. This makes it a great option for eco-conscious homeowners who want to lower their carbon footprint as much as possible. You can find composite fences in many stains, colors, and finishes.
However, while composite fencing does have its advantages, keep in mind that it's not quite as long-lasting as vinyl. It does contain real wooden elements, so it's prone to shrinking and expanding as the weather fluctuates. It can also be more expensive than other varieties and requires professional installation. 
Still, it does earn high marks for its versatility and flexibility. You can install your composite fencing horizontally to give it a fresh look. Or, you can install it vertically for a more classic touch.
Aluminum Fencing
Of all the different fence materials, aluminum is one of the strongest. At the same time, it's also one of the most lightweight. This makes it popular among homeowners who want a low-maintenance option that also looks sleek and polished. 
If your property is sloped, an aluminum fence is ideal. The material is malleable, which means it can be adjusted to accommodate even the steepest or most uneven yard. In addition, aluminum is also resistant to fading and isn't as affected by moisture damage.
When researching your different options, look for powder-coated fences that offer an advanced level of protection. This special finish protects the fence from rusting and also keeps the paint intact. 
Wrought Iron Fencing
Pure wrought iron is no longer used in commercial fencing. Today, most materials that use this label are actually made from a mild form of steel. This gives your property a stately and well-established look, but it can come at a higher price tag. 
Iron fences have to go through a long and extensive manufacturing process. A blacksmith reheats the iron multiple times, making it stronger and more durable with each iteration. This means your fence will last for a very long time!
While it can be cost-prohibitive to install an iron fence around your entire property, this material is ideal if you're installing a fence around your garden or a smaller patio. 
Chain Link Fencing
If you're looking for an affordable way to section off your property, you can't beat chain link fencing. While it might not deliver the same curb appeal as other types of fences, such as wooden or vinyl, it serves its purpose at a much lower cost.
This is a great way to enclose your backyard, keeping both pets and children contained. Its design won't block your view, and you can even install it on a sloped or hilly property! This is also one of the easiest types of fencing to install, and many homeowners can put it together themselves without hiring a professional installer. 
Which Types of Fences Do You Prefer?
Now that you know a little more about the different types of fences, do you have a preference for your home? If you want a long-lasting option that requires minimal upkeep, then vinyl, composite, or chain link fencing is ideal.
Or, you may choose wooden or wrought iron fencing if you're concerned more with curb appeal and aesthetics than functionality. Either way, take the time to think about the look you want and see the different options in person before you make a decision. 
Looking for more ideas to transform your property? Check out our other Home Improvement guides!