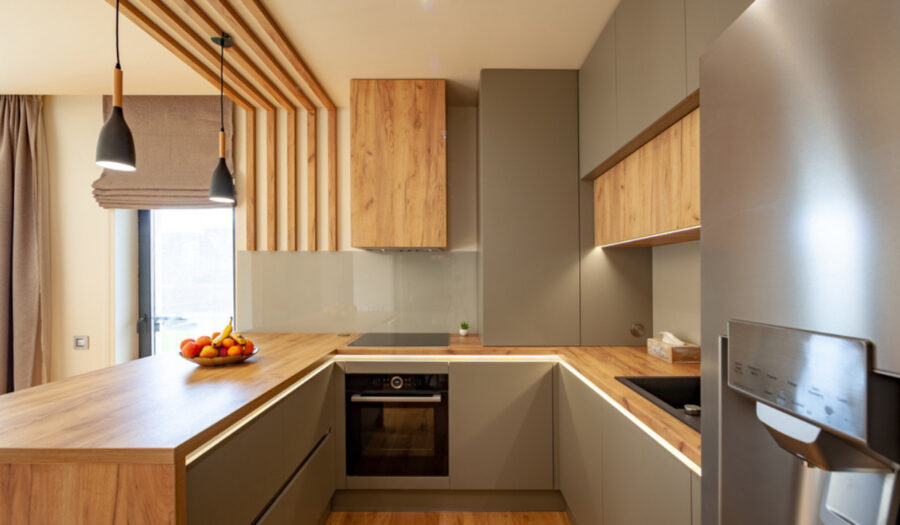 How to make the most of your single-wall kitchen in your home in 2022
A single-wall layout could be the solution for kitchen spaces that are limited. A single-wall kitchen has the smallest footprint possible and can include all appliances and furniture in one line. This kitchen layout will cost less than other designs because there are fewer cabinets.
A well-planned kitchen design, especially in smaller spaces, can make it easier to work efficiently. This is how to make a one-wall kitchen work. Some people put their electric grinder in the kitchen and mount it on the wall as well so that It doesn't look messy, you can buy the best electric grinder from here – yesune.com
1. Embrace a Sociable Layout
Although its footprint may seem small, it is actually a benefit. The single-wall kitchen does not encroach on adjacent living areas as much as other layouts. This allows you to use more space outside of the kitchen. This layout is typical for single-wall kitchens and complements modern open-plan living.
A single-wall kitchen allows only one person to cook at a given time. This makes it safe and convenient for everyone. This aspect is important in order to design a kitchen that suits the user's lifestyle and needs.
2. Planning an Efficient Design
Planning is essential in any kitchen. This layout is no exception. A single-wall kitchen usually has a fridge at the end of the kitchen. The sink would be located next to this, with counter space and storage below. You will find the oven and cooktop on the opposite side. To ensure food safety after cooking, you will need counter space. You should have more storage space below.
3. Stick with Cabinets
There are usually several upper cabinets above the lower cabinets. Sometimes, one or both of them has a tall cabinet. This is also where you will find your exhaust fan and housing, if applicable. Cabinetry can extend to the length of the wall.
4. Mixed Shelving is a great option
You could also break down the cabinets using an exhaust fan or open shelves. You can also put shelving on the wall to either side of the kitchen. This will be both decorative and functional.
5. Install bridged upper cabinets
You can also add bridging cabinets to your top cabinets depending on how much space you have. These cabinets usually have tall cabinets on either side. This creates extra storage and a sunken effect on the upper cabinets by subtle changes in their depth. The top cabinets measure approximately 14 inches in depth, while the upper cabinets measure about 26 inches. This kitchen has a frame-like look or feature wall effect.
6. Max Out Your Storage
It is essential to have storage in every kitchen, no matter how small or large, but especially in a single-wall kitchen where there are fewer cabinets than in other layouts.
It is important to ensure ample cupboard space, but it's also worth considering whether you have the potential for additional storage in other areas of your kitchen. Open-plan spaces are popular because they allow you to design furniture that is not in the kitchen area. This allows you to unify the spaces and create a seamless look.
7. Add an island
It's worth looking at whether there is enough space for an island to be added to your single-wall kitchen when planning your kitchen layout. This will improve the layout if you plan well.
8. Draw the Lines of Space
A table can be used for both dining and work, even if a kitchen island is not possible. Apart from the obvious advantages, a table can create the illusion of two distinct spaces by separating the living and kitchen areas.