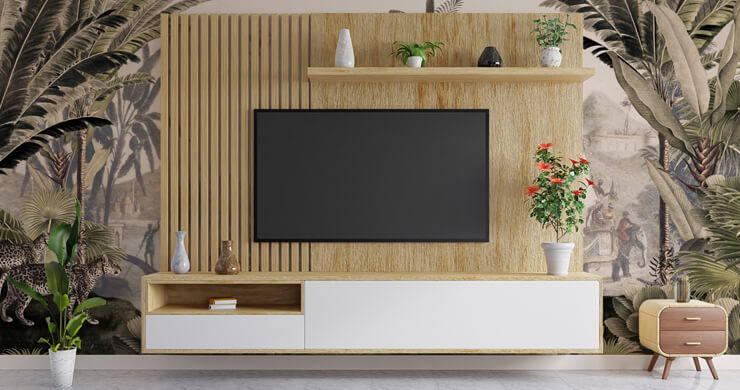 Elevate Your Entertainment Space: Creative Media Wall Ideas
Home usage goes beyond living. Especially in the modern world, certain home-specific gadgets have become more of a necessity. These make a home more than a place to sleep and rest. Residents can find their source of entertainment in their place of stay. However, even with all advancements, finding an appropriate set-up to fit in modern tech without compromising on home decor remains a tough task. Fortunately, with some effective media wall ideas, homeowners can find the perfect blend of technology and aesthetics.
Media Wall Ideas
Televisions, gaming or music setups, people have their preferences when it comes to home entertainment. Some find enormous TVs enticing while others may be more inclined towards music systems. Either way, decorating the rest of the room accordingly can add more appeal. Additionally, the right ambience makes the experience more enjoyable.
That said, let's now go through some effective media wall ideas to bring the best out of the entertainment area.
TV Walls with Shelves and Ambient Lighting
Floating shelves and ambient lighting can be the perfect way to make a decoration statement. Floating shelves are conveniently available in the market. Additionally, they are a great way to store entertainment pieces and create a cosy environment. On the other hand, ambient lighting can help set up the mood for different occasions.
Cabinet Wall with Hidden Media
This can be a viable choice for people looking for traditional living room TV wall ideas. Use customised cabinets to fit in a TV or any other appliance. Homeowners can also opt for sliding doors as they carry a certain appeal. In addition to concealing equipment when not in use, these can help to create a clean and clutter-free appearance.
Wooden Feature Wall
Using a wooden feature wall is also among the creative media wall ideas. Wood carries a certain charm and is now available as an eco-friendly option. Moreover, wood brings warmth to a room and adds a great bit of character. Place the TV set or music system on the wooden wall and bring the room to life. Furthermore, conceal wiring to highlight the wooden panel.
Modern TV Fireplace Wall Unit Designs
TV above a fireplace is a known architectural practice for old and modern homes. Find the ideal distance between the screen and fireplace to ensure there are no possibilities of damage. This setup can bring the perfect blend of modern and modern technology and traditional art. Consequently, homeowners can enjoy a perfect movie time on a chilly evening.
Gallery Wall
A gallery wall can be a great way to showcase art around technology. Let the TV or music system take centre stage and appoint paintings and art pieces around it. Besides, art pieces, family portraits or any other pictures would do the job fine. Moreover, painting frames can be a great way to conceal media cables, wires and switches.
Bookshelf Wall
Bibliophiles looking for some creative media wall ideas can start with a bookshelf design. This can be a great way to combine the love for media and books in one area. Moreover, this combination adds personality to the place. Residents can get their fair dose of books, movies and music – all in one place.
TV Mirrors
Mirrors are great statement pieces that add great appeal to any place. One of the most creative living room TV ideas is to go for TV mirrors. When the television is not in use, these bespoke mirrors can take centre stage to enhance room appeal. Additionally, this is an effective way of covering modern tech with contemporary design.
There you have it, the many media wall ideas to decorate the entertainment room at your place. Whether you prefer a modern, creative, futuristic, cosy, minimalist, or personalised approach, the aforementioned ideas can help design a room as per your liking.
Moreover, trying any of these ideas can be a great way to portray your taste and preferences through interior design.
Stay tuned for some effective home room decoration ideas and more.