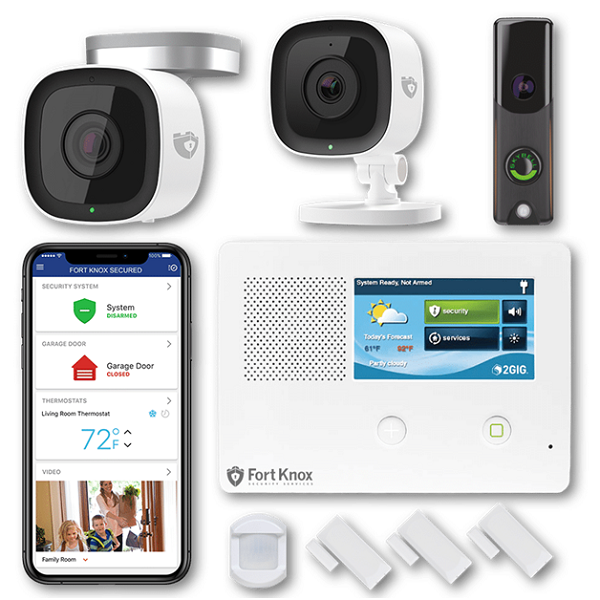 Dallas Home Security Company: Fort Knox
With so many home security companies competing for your attention, how do you know who qualifies as the best? What you should look for in a home security company? Anyone can advertise a business, but it is the customers who give the true picture. Let's list a few key factors that make a company the best one to look out for you.
Do They Have What I Need?
Look for a home security company that is flexible and works around your needs. Know what you want to protect your home. Can you customize the security package with the equipment you really need and take out what you don't? You should be able to get free activation and installation of the new security system into your home. Same-day installation wouldn't be too much to ask either. Are they upfront about the costs and fees? Have your questions ready to ask of them. Fort Knox Home Security can do all this for you.
Quality Service
The Fort Knox home security company will assist you in choosing the right products. Not only that, they will stay with you through the installation and even walk you through the finished product. They will make sure you know how to operate your new system and answer any questions. Do you already have an existing system and want to upgrade or add monitoring? Fort Knox can work with that too. Their technicians are highly trained and are part of the outstanding customer service team that is always there for you. Customer support is 24/7. 
Equipment
As previously stated, Fort Knox Home Security can work with your existing security system. Upgrades are available if necessary. Three different packages are available since we know every home is unique. The package you choose can be customized to fit your needs. Other than the three package options, several smart home devices are available to add. To top it all off, the Fort Knox Home Security monitoring stations are known for their fast response times. Alarm monitoring starts at $15.95, one of the lowest rates you will find. It is UL-Certified with $0 same-day alarm activation. 
Why We Are the Best
To summarize why we are the best home security company in Dallas, here are a few points to keep in mind when comparing others:
24/7 Customer Support

Expertly-Trained Technicians

Customizable Security System Packages

Smart Home Options Available

FREE installation and activation on new security systems

Complimentary On-Site Training

UL-Certified Alarm Monitoring, starting at $15.95

Existing Systems Activated with Upgrades if Needed

No Contract Home Security for Renters

Business Security and Monitoring Offered
We are the best in the home security systems because we put you first. Your safety is important to us. We depend on our happy clients to build our reputation. Look over some of the reviews that have been left for us! Call us today to see how we can help you. All of the options will be made available for you to choose from.