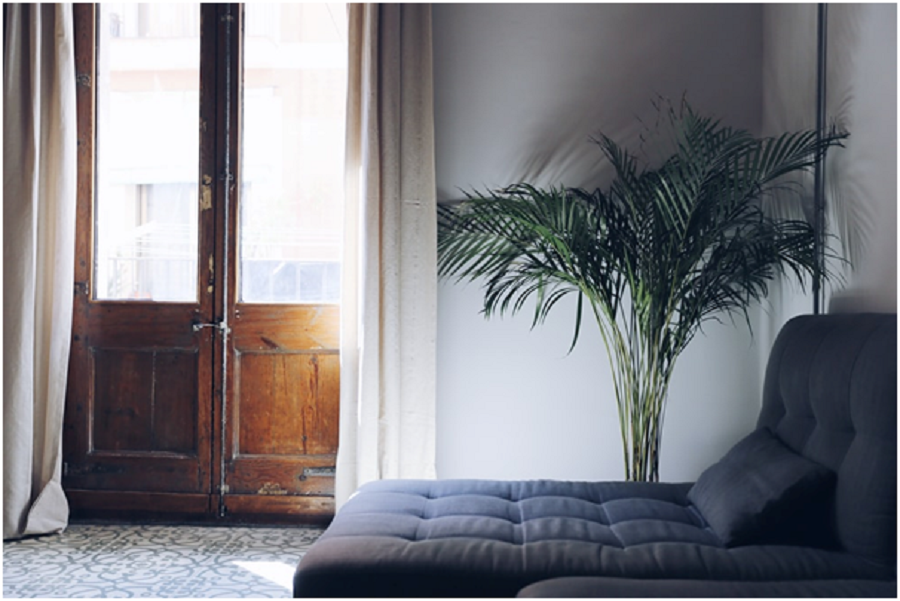 Blinds Vs Curtains: Which Is Best If You Love Indoor Plants?
Indoor plants are the new therapy for many, delivering such benefits as boosting moods, productivity, concentration, and creativity. They clean the air, can reduce stress, and prevent things like the common cold.  But if you love your houseplant, it can come down to making blinds vs curtains decision.
It can be a challenge trying to find the perfect lighting for an indoor plant. It also hugely depends on your floor plan, the directions your windows face, and the amount and type of light the plants require themselves. Another depending factor is figuring out whether to choose blinds or curtains for windows; each window covering has their pros and cons when it comes to letting in natural light for your plants and providing you with the comfort and privacy you need.
Image credit: Unsplash
Firstly, what direction are you facing?
When you're deciding what type of window covering to use, it's a good idea to consider whether a window is facing north, south, east or west. The direction determines the amount and strength of sunlight that will come through the window and what window covering is required for your plants to thrive. Remember, plants prefer full sun, part sun, or shade.
It's important to remember these key points:
North facing windows attract the most sunlight.
South-facing windows attract the least sunlight.
East and West facing windows usually get a half-day of direct sunlight and a half-day of shading. The western sun can be harsh, the eastern sun much softer.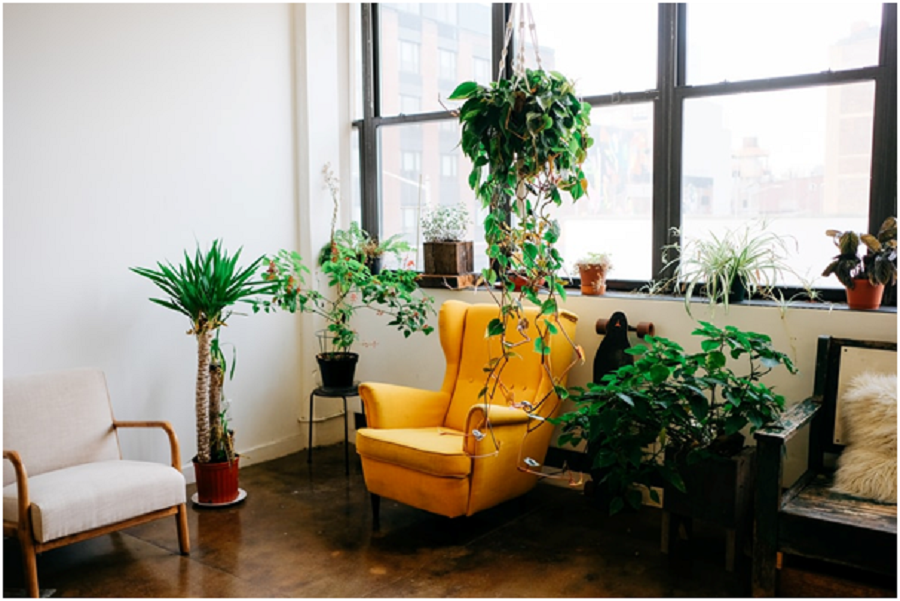 Image credit: Unsplash
Blinds or curtains for a living room?
Now you know the effect the direction of your window will have on your plants, what window covering should you select?
If you're an absolute lover of the good old drape, but you can't pass up your indoor plants, consider hanging your curtains where you don't have plants and where there is the least sunlight, because the plants won't thrive there anyway. The problem with curtains is, they're either open or closed. You could opt for sheer curtains that filter the light but don't provide privacy at night, or you could add a blockout curtain over the top, but that's a lot of curtains to catch dust!
Blinds, on the other hand, are more versatile. These days blinds come in various designs that cater to everything from climate and position to taste and design. There's also no arguing that blinds are practical, easy to clean, and modern.
In your home, you must have decorative indoor plants, you can buy indoor plants from here – dekoflower.de, if you want to make your home pleasant then selecting the right curtains and blinds is a must for your indoor plants.
Roller blinds vs curtains
If you're deciding on roller blinds vs curtains to filter the direct sunlight, particularly from the North and West, and to provide privacy, roller blinds with both day and night coverage work well. Use the sheer roller blind to filter sunlight and provide some privacy during the day and the block out blind for privacy at night. Alternatively, traditional one layer roller blinds come in block out materials and sheer materials depending on how much sunlight and privacy you need.
Venetian blinds are also versatile in their ability to meticulously control sunlight; however, when they provide privacy, they can't do both.
Veri Shades, a cross between the vertical blind and curtain, these are certainly a smart answer to blinds if you love your curtains. They're modern and have been designed with light control in mind. The fabric of the blinds allows you to enjoy privacy throughout the day with still being able to look through. You can also adjust the privacy and light filtering level. For the days when you and your plants need a break from the scorching heat, this is a clever window covering option.
Image credit: Unsplash
I just adore curtains. What are my options?
If you're a traditionalist and can't go past your curtains, or perhaps blinds simply won't do your colonial home justice, there is a way to nurture your indoor plants if they aren't getting enough sunlight – Artificial plant lighting. It's not as sustainable as free sunlight, but it's an option.
Just think, what would happen if you had to block out the sun all day? What will happen in the summer? How will you walk around in your underwear all day but your plants can't eat because you need your privacy?  We never like to admit to killing our plants, we want to strive to be the best plant parents around, but the hard decisions have to be made – blinds vs curtains, which are better for you and your plants?